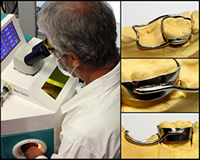 We are pleased to announce that we are now offering laser welding as an option when fabricating your appliances, at no extra charge. Laser welding is now proven to be an indispensible and valuable tool in the dental and orthodontic laboratories. It's stronger and tends to be less bulky than traditional solder joints, creating better patient comfort

Indirect Bonding is a family owned and operated orthodontic laboratory located in Sunrise, Florida. It is a full service Lab offering most orthodontic appliances and specializing in Indirect Bonding. We have been dedicated to orthodontic laboratory excellence for over 28 years.
Our laboratory thrives on providing our valued Orthodontists the highest quality work and consistently proper fitting appliances. We are committed to providing outstanding personalized service, and unwavering exceptional attention to detail to satisfy the most demanding needs of our clients.
Our products and services include a full range of orthodontic appliances, retainers, invisible retainers, all associated accessories and of course Indirect Bonding, including transfer trays, bracket placement, fixed lingual, etc.