Products & Services
IBW products include a full range of Orthodontic Appliances, Retainers, Invisible Retainers, all associated accessories and of course, Indirect Bonding.
Expanders
Bihelix
Quadhelix
E-Arch
Distalizer
Hyrax
Retainers
Standard Retainer
Circumferential Retainer
Passive Invisible Retainer (Essix™)
Active Invisible Retainer (Essix™)
Fixed Lingual Retainer (with transfer tray)
Accessories
Bite Plates
Finger Springs
Pontic
Expansion Screws
Functional/Miscellaneous
Herbst
Lingual Arch
Space maintainer
Nance
Study Models
Splint
---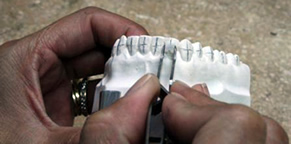 Why Indirect Bonding?
It is the ultimate time saver in the busy orthodontic office. It improves patient comfort, reduces chairside time and increases the accuracy of brackets placement, resulting in higher profits.
Indirect Bonding has been in use for over two decades. Over the years, advances such as customized bracket placement, specialized adhesive systems and transparent transfer trays have helped Indirect Bonding become a highly accurate and dependable system that Orthodontists now rely on with a higher degree of confidence.
As our name implies, Indirect Bonding is our specialty. We have been doing it for so many years that our accuracy has become second nature.
Indirect Bonding Cases
When sending your model casts to us, please make sure to wrap models in "bubble wrap" to avoid breakage. When enclosing brackets with your models, please place them on a "sticky card" with clear tape over them or use a plastic bracket case that holds each bracket in its proper place. Indicate if the brackets are to be supplied by us - for an additional cost.
If spacers are placed after the impressions for Indirect Bonding are taken, any slight movement of the teeth could jeopardize the fit of the custom trays. For this reason when teeth are banded, we recommend placing the spacers after the case has been bonded.
Our standard transfer trays consist of a clear "two-part" design. This configuration offers more stability and makes it possible to apply uniform pressure to all brackets during bonding. Light cure or chemical bonding adhesives can be used since the trays are clear.
Unless otherwise specified, we deliver the transfer trays to your practice with no sectioning or splitting. However, some offices prefer to have the trays sectioned at the dental midlines or even three pieces per arch when the molars are bonded. When we have a request to cut the trays, the inner and outer trays are always sectioned in the same manner.
Our Lab is fully equipped; our technicians are highly experienced and very innovative. If you need an appliance or design that is not listed, please let us know. We will work with you to create it.